With the blessing of the CEO of Skycoin, Synth, and help from Skycoin developers, we have released our PrivateNess Mobile Wallet on June 1st 2022. You can download it directly from out website as an apk (=Android package) file:
PrivateNess-wallet.apk
Our wallet is a fork from the private code of the Skycoin wallet, modified and rebranded to directly route to our node URL. You can neatly load your existing wallet with your seed phrase, or create a new wallet.
You do NOT need to send your NESS and NCH from your previous installation of the Skywallet to a new wallet/new addresses. iOS users will not be able to install this wallet. For iPhones, the Original Skycoin wallet with a manually modified node URL is still the best and only way to have your NESS with you on the go.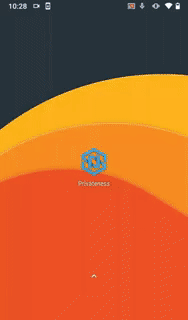 We have listed NESS COIN HOURS on the XBTS exchange. You can now trade your NCH on the decentralized exchange in these pairs:
NCH / SCH  x  NCH / BTS  x  NCH / USDT
If you have not yet created your XBTS account, use this referral link to set up your account in under a minute: https://ex.xbts.io/?r=privateness-network
In case you already have an account but like to create another one, you need to wipe our cookie cache of your browser or the XBTS website specifically. To do so, click on the lock next to the URL, click on cookies and 'remove'. This process differs from browser to browser. In addition to the listing of NCH we have added three DeFi Liquidity Pools:
Bridge from Waves.exchange to XBTS closed
The bridge from Waves Exchange to XBTS is now closed. This means that 100% of the now circulating, free flowing and movable supply of NESS and NCH are native coins and tokens, either to be found on XBTS or in Fiber wallets as native coins and tokens.
The only synthetic supply of NESS left is 'caged' in Waves as there is no possibility to withdraw from (and deposit to) the exchange.
However, if one desires to trade NESS on Waves still for whatever reason, the technical possibility still exists. The synthetic-NESS supply that still is on Waves, most likely abandoned, could theoretically be placed on the market and subsequently acquired. A removal of the listing of NESS on Waves itself is not possible due to the newly imposed 'Community Token' regulations. The decentralized exchange now requires from us to verify our identities to remove the coin entirely. Our official statement on this issue is: 🤡
If you find yourself in the unfortunate position of still holding NESS on the Waves exchange, despite our year long efforts to reach and motivate you to withdraw, please contact a team member directly to see what we can do for you. We won't leave you behind just because you were in a coma since November 2021…
Cointracker listing of NCH
We welcome Shenki as our new CEO!
Shenki takes the reins while Jeff assumes the position of Chief Technology Officer, to focus entirely on the development of our technology.