The PrivateNess Network is the place w

here the security and privacy of all data will never be compromised

The PrivateNess Network is the place where the security and privacy of all data will never be compromised.

CoreNode authentication
by NFTs
In order to guarantee the absolute authenticity of our CoreNodes in the PrivateNess Network ecosystem and to eliminate any security breach, we have integrated a feature allowing authentication by verified NFT which guarantees the authenticity of CoreNodes. This certificate of authenticity will be required so that the CoreNodes can perform all forms of operations required on the Fiber Chain.

A fully Decentralized AND Obfuscated
OSI protocol stack
PrivateNess Network (NESS token) is a dual coin Fiber chain cryptocurrency on the Skycoin platform and equipped with Emercoin core (EmerNVS) as a local BaaS provider through json-rpc endpoints.
The two technologies will be working side-by-side in a SHA-256 signed public-key to public-key communication scheme, totally unaware of one another in a kind of Double-Blind operation.

We don't put all our Trust in the same basket
With PrivateNess we turn tables on Trust versus System versus Decentralization. Who should trust what, and why should anyone trust anything when not necessary? We empower the consumer as much or as little as desired, depending on the privateness and ownership of the seedkey used to initialize the non-repeating 1536 bits entropy PRNG. The consumer can be a human, a smart contract or both in such a way that any cryptographic system will recognize (or not if malicious).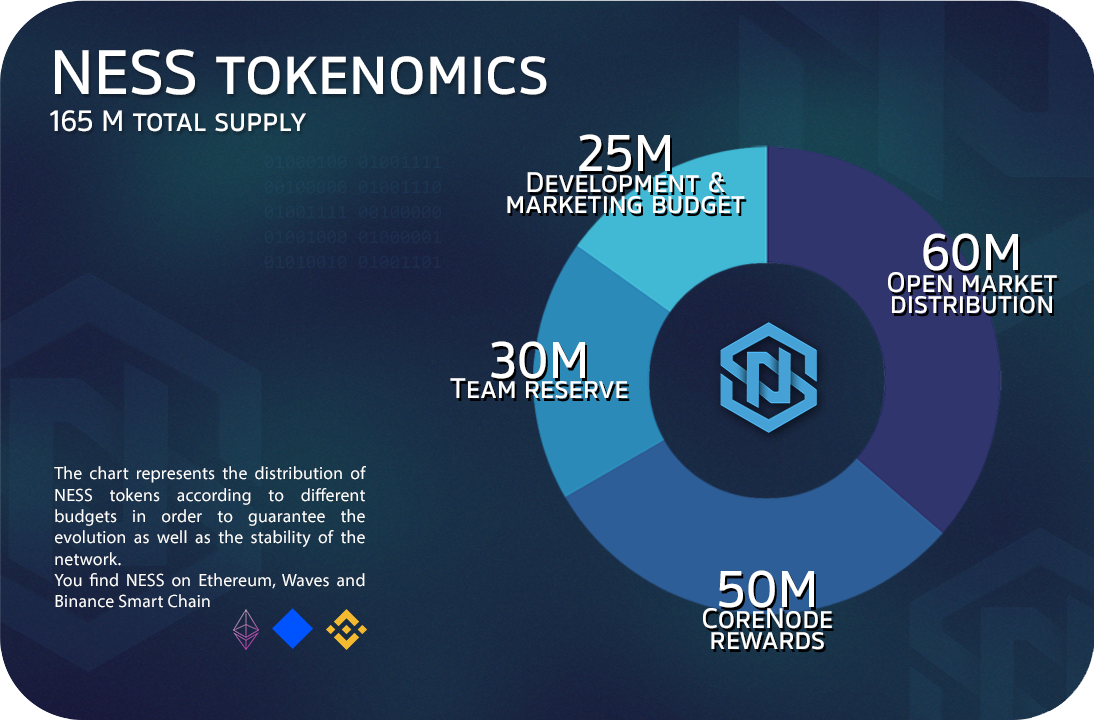 Greetings PrivateNess supporters! Here's an updated roadmap proposition for the next 4 quarters; more co...
CORENODE DEPLOYMENT

The deployment of a PrivateNess Network CoreNode is quick and easy. Follow the steps below and deploy your node on Linux or Windows.
REQUIREMENT

To install the PrivateNess Network CoreNodes, we recommend that you do this on a fresh install of:
Ubuntu 18.04
or any
Arch Linux
distro.
You must have root privileges to install
The server that will host the CoreNode must meet at least the following requirements:
1 Core
·
2 Gb RAM
·
20 Gb SSD
·
IPv4 address
[nodes run smooth on even passive cooled Raspberry Pi's]
Step by step

0. Close all browser windows. Open your terminal or command prompt, then copy and paste the commando lines.

1. Install git
Debian: sudo apt-get install git
Arch: sudo pacman -S git
Windows 10: https://golangdocs.com/install-go-windows



2. Install Golang


Debian: sudo apt-get install go
Arch: sudo pacman -S go
Windows 10: https://golangdocs.com/install-go-windows



3. Download, compile and run the node:


git clone https://github.com/ness-network/privateness
cd privateness/
sudo make run-client



4. A new Browser window opens with a Skycoin wallet tab. Create a wallet or login to your wallet. Done!
Once you have completed all steps, you should see lines similiar to these in your terminal.
This means your CoreNode is installed correctly and is functional.